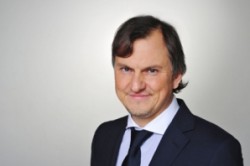 Ask our legal expert!
Gencs Valters
Claim your FREE copy
Doing Business Guide in the Baltics.
Revocation of EU Trade Mark, Hyphen GmbH v EUIPO and Skylotec GmbH
On 13th of September 2016 the Second Chamber of the General Court issued a judgement regarding revocation proceedings of an EU trade Mark. The main parties in the case are Hyphen GmbH, established in Munich, Germany and the European Intellectual Property Office, as well as Skylotec GmbH, established in Neuwied, Germany.
In 2002, Hyphen GmbH secured registration of an EU Trade Mark, a figurative sign in black and white, having the shape of dumbbell. Later on, in 2012, Skylotec GmbH applied procedure for revocation of the European Union Trade Mark, registered by Hyphen GmbH on the grounds of non-use over a continuous period of five years.
The EUIPO's Cancellation Division upheld the action for certain goods because of a lack of sufficient goods. However, it dismissed the action for the remaining goods. But the Board of Appeal (BoA) disagreed and upheld Skylotec's appeal and revoked Hyphen's right for its EUTMR. The Board of Appeal also held, that within the meaning of Article 15(1)(a) of the Council Regulation on the Community trade mark, "distinctive character" refers not to Trade Mark's ability to perform an origin function, but simply to its overall impression.
Subsequently, The General Court annulled the BoA's decision, noting that the distinctive character of Trade Mark in this context means the ability of a mark to indicate trade origin. That is why it pointed, that the BoA's interpretation is not correct.
From practical point of view the General Court remarked that the purpose of Art. 15(1)(a) is to allow right holders flexibility, and that strict conformity to the registered form would be impractical.
To get more information with reference to EUTMR, Revocation procedure please contact our English-speaking legal experts at: info@gencs.eu.
T: +371 67 240 090
F: +371 67 240 091