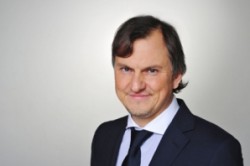 Ask our legal expert!
Gencs Valters
Claim your FREE copy
Doing Business Guide in the Baltics.
EU Trade Mark - Appeal against refusal for registration
On 27th of July 2015, an applicant sought to register EU trade mark with the following figurative elements: oval shape, yellow background, capitalized blue letters and border of the same color, the windmill image in place of the letter 'Á'.
The protection for the European trade mark was claimed by the applicant for the following goods: Class 29: Seeds, prepared; Sunflower oil for food; Edible oils; Olive oil for food; as well as class 30: Husked barley; Barley (Crushed -); Wheat germ for human consumption and etc.
Based on the examination of the application, the Office's examiner concluded that the sign was not eligible for protection as an EU trade mark pursuant to Article 7(1)(b) and (c) of the European Union trade mark regulation. Briefly it describes the absolute grounds for refusal like European trade marks which are devoid of any distinctive character or EU trade marks which consist exclusively of signs or indications which may serve, in trade, to designate the kind or other characteristics of the goods or service.
The term 'SZATMÁRI' directly and unambiguously informs Hungarian consumers that the goods for which EU trade mark registration is sought (mainly cereal products) originate from a specific geographical area and, as such, refers to the geographical origin and place of production of those products. Therefore, there is such a strong relationship between the sign for which registration is sought and the goods claimed that the prohibition under Article 7(1)(c) EUTMR applies.
On 24 May 2016, the applicant submitted an appeal against the above-mentioned decision before The Board of Appeal, where the grounds for appeal have been exposed in details.Thus, on April, 5th 2017 The Board of Appeals issued a decision, which allows the appeal specified above and repeals the contested decision, also, orders the publication of registration for all the goods claimed.
More information you can found here: http://gencs.eu/
If you are interested in Opposition proceeding against European trademark application and rejection of EU trademark registration, go here: http://gencs.eu/news/view/3519
To find out more about the European trade marks, contact our EU Trademark attorney at: info@gencs.eu
T: +371 67 240 090
F: +371 67 240 091